Venue
The Buriel Clay Theater has been home to our productions since 2002. It is located on the ground floor of the African American Art and Culture Complex at 762 Fulton St. San Francisco, CA 94102. The theater is named after Buriel Clay, a playwright and poet from San Francisco. The theater seats more than 200 people and has tiered cushioned seating to ensure that everyone is able to see the stage comfortably. We look forward to seeing you in the audience!
Accessibility
Buriel Clay Theater is handicapped accessible. The building and theatre entrance is located on the ground floor. There are 6 dedicated wheelchair accessible seating along with wheelchair companion seats. Our parking lot has several disabled persons parking spots. In addition, our restrooms have handicapped stalls. Service animals are welcome in the facility and they have a place in a specially designated area. And we provide scripts for those who are hearing impaired upon request. If you require assistance at our theater, please contact us to let us know ahead of time so we can accommodate your needs (415) 762-2071 ext. 6.
Parking
There is limited complimentary parking for our patrons in the lot adjacent to the African American Art and Culture Complex.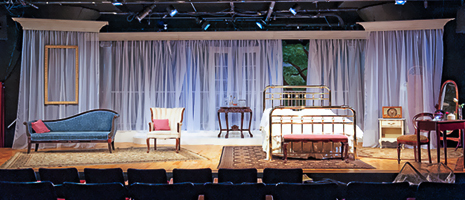 Snacks & Drinks
We sell snacks and drinks before shows and during intermission. Help support us by buying something to eat! Our usual offerings include water, soda, cookies, and a variety of candy. Please note that outside food is not allowed. Remember to pick up after yourself and help keep the facility clean!
Merchandise
During the opening night for each production, we fundraise by selling t-shirts and lapel pins. To purchase a t-shirt any time, visit our online store!
Online Store