Performances

Friday
March 31
Preview
8pm
Saturday
April 1
Opening
8pm
Sunday
April 2
3pm
Friday
April 7
8pm
Saturday
April 8
8pm
Sunday
April 9
3pm
Friday
April 14
8pm
Saturday
April 15
8pm
Sunday
April 16
3pm
Running time: 2 hours with a
15 minute intermission
Recommended minimum age: 8
Venue
Marines' Memorial Theatre
609 Sutter Street, 2nd Floor
San Francisco, CA, 94102
Nearest BART Station: Powell
Tickets
General Seating: $32.50*
* Ticket price includes a $2.50 theatre restoration fee
Group Ticket Discount: 15% off purchase of 10+ single tickets
Half Season Subscriptions
Jitney and The Winter's Tale
$50 ($25 per production)
Photos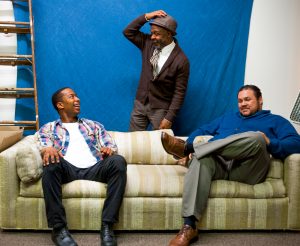 To view more press photos and to download high resolution files, please view our
Press
page.
Press Coverage

Wanda's Picks Radio Show
Interview with Edward Neville Ewell (Youngblood) and Jemier Jenkins (Rena). The interview starts at 96:20.

August Wilson
Academy Award winner Viola Davis gives praise to August Wilson's plays.

April 1–16, 2017
Jitney
Written by August Wilson
Directed by L. Peter Callender
Set in 1977 in the Hill District of Pittsburgh that is served by a makeshift taxi company, Jitney is a beautiful addition to the author's decade-by-decade cycle of plays about the black American experience in the 20th century.
Jitney takes place during an end of an era, where urban renewal threatens to eliminate the makeshift small business Jitney service, which developed to serve the Black community when taxis would not come to their neighborhoods. Jitney is a play about father and sons and brotherhood and love; loss and hope; and ultimately, community, told with passion that transcends all races. Jitney is part of the "Pittsburgh Cycle" of plays created by August Wilson about the African-American experience in Pittsburgh.
#JitneyAASC
Director's Note
No director worth his/her salt would turn down an opportunity to direct one of August Wilson's plays, nor an actor turn down an opportunity to play one of his richly nuanced characters. I have had the pleasure of doing both! I have acted in 23 Shakespeare plays, directed several and, as in Shakespeare (who wrote 10 history plays as did Wilson), Wilson's words are textured, the thoughts are rich and complicated, the characters bigger than life and the stories are breathtaking! Jitney, Wilson's first play, is such an example. It is a play about fathers and sons; brotherhood and love; loss and hope, and ultimately, community, told with passion and poetry that transcend all races. This is not an epic play. It doesn't follow in the footsteps of Wilson's other masterpieces like The Piano Lesson, Fences, Gem of the Ocean, Ma Rainey's Black Bottom, and Joe Turner's Come and Gone. What makes this play stand on it's own are the characters you'll be introduced to and how they maneuver through their lives on life's battlefield. The leaders and the followers, the dreamers and those whose dreams have faded away; and those clawing their way back from near destruction, in a world that is crumbling around them. All the while, exhibiting pride, honor, dignity, humor, love and the unwavering desire to survive! I will be forever grateful to have the opportunity to helm this brilliant work! I dedicate this production to Brandon Callender, Elsa Callender, and to you, reading these notes, for your support of these great plays.

—L. Peter Callender
Cast

Production Team

Videos
*The Actor appears through the courtesy of Actors' Equity Association, the Union of Professional Actors and Stage Managers in the United States.