Staff
Sherri Young
Founder & Executive Director
An M.F.A. graduate from the American Conservatory Theatre; and former Commissioner for the San Francisco Art Commission proudly serving for Mayor Gavin Newsom, Young founded The African-American Shakespeare in 1993 and has been its Executive Director since. She has directed sixteen productions, produced and executed four programs for the organization and speaks at various colleges, universities, and conferences across the nation. Young manages the approximately 60 company members and volunteers for the organization's programs. Some career highlights includes the creation of the company's signature holiday performance Cinderella, effectively building and stabilizing the organization over the past five years, increase audience attendance by 30%, and increase new funding support by foundations and individual donors within the past two years.
L. Peter Callender
Artistic Director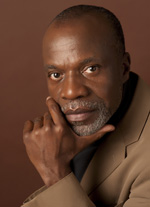 L. PETER CALLENDER is a native of Trinidad, West Indies, and has worked professionally as an actor for over thirty years, more recently as a director and writer. He received his formal training in the theater at the Juilliard School in New York City; Webber/Douglas Academy in London, England; Mask Technique with Julie Taymor, and The Suzuki Technique with The Tadashi Suzuki Company in Toga-mura Japan. He has appeared on Broadway, off-Broadway, in regional theaters across the US, and has performed internationally in Japan, England and France. His New York Credits include: Tom/Jamaican Waiter in Prelude to a Kiss (Circle Rep. and at the Helen Hayes Theater on Broadway directed by Norman Rene); Off-Broadway; Roscoe in Black Eagles (directed by Ricardo Kahn at Manhattan Theater Club), Casbeque in The Caucasian Chalk Circle (directed by George C. Wolfe at the Public Theater); Caliban in The Tempest (directed by Julie Taymor at Classic Stage Company); Curio/Ensemble in Twelfth Night at the Delacorte Theater directed by Harold Guskin).
Currently, Mr. Callender is an associate artist at the California Shakespeare Theater– now in his 21st season. Some roles at CalShakes include: The title roles in Julius Caesar and Cymbeline, Oberon in A Midsummer Night's Dream, Capulet in Romeo and Juliet, Orsino in Twelfth Night, Leonato in Much Ado About Nothing, Polixenes in A Winter's Tale, Navarre in Love's Labor's Lost, Bolingbroke in Richard II, Duke Solinus in Comedy of Errors, Laertes in Hamlet, Dukes Frederick and Senior in As You Like It, La Feu in All's Well That Ends Well, Dr. Chasuable in The Importance of Being Earnest, Vincent Crummels in Nickolas Nickleby, and Roebuck Ramsden in Man and Superman. He also teaches Acting Shakespeare Level One — for adults — each fall for CalShakes.
Website: www.lpetercallender.com
Kevin E. Myrick
Lighting Designer/Technical Director and Production Manager
Kevin Myrick has been lighting theatrical events since 1968, working for dance and theatre companies in Chicago, Atlanta and here in the Bay Area. Mr. Myrick studied theatrical design at San Francisco State University, and has designed shows for the Oakland Ensemble Theatre Company, A Black Box Theatre Company, United Projects, Berkeley Black Repertory Theatre Company, Go Productions, SEW Productions, Dimensions Dance Theatre, Wajumbe Cultural Ensemble, the Alliance Theatre Company and Just Us Theatre Company in Atlanta, African- American Shakespeare Company, Cultural Odyssey, AfroSolo Theatre Company; and many other community and professional arts organizations.
Gregg Hood
Company Consultant
This is Gregg Hood's fifth season with the African-American Shakespeare Company. Mr. Hood's recent Bay Area Production Management work has been with foolsFury for Port Out, Starboard Home at Z-Space and La MaMa, Mugwumpin for Future Motive Power at the Old Mint, ODC, UPT, WCT and over 150 live events. Tennessee Williams, Nilo Cruz and David Lindsay-Abaire are among Mr. Hood's favorite playwrights. Gregg Hood is a graduate of San Francisco State University's Theatre Arts Program and has served as the Acting Director and Theatre Arts instructor for AIM Schools in Oakland.
Liam Passmore / Shave and a Haircut
Publicist / Public Relations
The Quakers have a saying: Let your life speak. When this is applied to public relations, it becomes, Let the story speak. With over 15 years of experience in media, Liam Passmore and his company, Shave and a Haircut, specialize in public relations for arts organizations, authors, artists and others who have a story worth telling. His press placements include The New York Times, the San Francisco Chronicle, San Francisco Magazine, 7×7 magazine, Dwell magazine, Sunset, The Onion, USA Today, ARTnews, Dance Magazine, KCBS, KFOG, KQED, KGO, West Coast Live, as well as ABC's View from the Bay and SPARK. Clients past and present include Litquake, San Francisco's Literary Festival; Headlands Center for the Arts; ODC Theater; SF Open Studios; AXIS Dance Company; the restaurants flour + water, Martins West and Del Popolo; author K.M. Soehnlein, the design and retail company, Paxton Gate, and performers Monique Jenkinson aka Fauxnique; Chris Black and Mica Sigourney.
Information, www.shaveandahaircut.biz
Angel Eaglin
Musical Composer
Angel Eaglin has embraced her authentic voice—a voice that speaks to the heart. As a singer, actor, musician, Mrs. Eaglin blends a unique fusion of classic elegance and edgy soul that resonates with her audience. At an early age, Angel Eaglin expressed an affinity for singing and performing. Reared by an artistic family, Angel Eaglin was exposed to a palette of traditional, alternative, rock, jazz, Latin, soul, and gospel music which she now synthesizes to create her colorful mosaic of sound.
After capturing the attention of world-renowned entertainer MC Hammer, Mrs. Eaglin' immediately joined him on tour as a featured vocalist and backup singer. Appearing on two top ten singles, 'Goin Up Yonder', and 'Keep On'. Mrs. Eaglin has performed and been featured on a variety of nationally televised networks including BET, MTV, VH1, and Trinity Broadcasting Network. Angel Eaglin has shared the stage and recorded with artists such as Stevie Wonder, Sheryl Lee Ralph and Kirk Franklin. Mrs. Eaglin has written music and performed vocals for major recording artists Dwele, and R. Kelly; and performed to international acclaim in Japan, Korea, Barbados, and India.
Angel Eaglin was musical director and had her original music featured in the African-American Shakespeare Company's Cinderella and was last seen as Sarah Brown in Guys and Dolls at Berkeley Playhouse. Mrs. Eaglin recently worked as additional music director and US/Blues Speak Woman and Missie May for SPUNK at California Shakespeare. Bay Area Credits include SF Playhouse, TheatreWorks, New Conservatory Theatre Center, Bus Barn Stage Company, Broadway By The Bay, The Lorraine Hansberry Theatre, and Contra Costa Musical Theatre Company; Regional credits includes: Goodman Theatre, Congo Square Theatre, and Black Ensemble Theatre in Chicago, IL. Mrs. Eaglin holds a Master's of Education in the Art of Teaching and is a member of the National Educational Honors Society. Currently, Angel Eaglin is preparing to release one of her most creative, innovative and musically rich albums to date.
Cheryle Honerlah
Stage Manager
Cheryle Honerlah is excited to return for her second season with African-American Shakespeare. Ms. Honerlah is a graduate of California State University East Bay with her Bachelor of Arts in Theatre. A past intern with California Shakespeare Theater, Ms. Honerlah's stage management credits include: Cinderella; Medea; Much Ado About Nothing; I Love You, You're Perfect, Now Change; Good Person of Setzuan; and the US premiere of NN12.
Hannah Westbrook
Stage Manager, Xtigone
Hannah Westbrook is excited to be working on her first production with the African-American Shakespeare Company. Westbrook is a recent graduate of UC Berkeley with a double major in Dance, Theater & Performance Studies. Recent stage management credits Summertime at UCB, and On a Wonderverse (staged reading) at Crowded Fire Theater. Hannah Westbrook also works as a house manager for FaultLine Theater.
Bert

van

Aalsburg
Set Designer
We welcome Bert van Aalsburg back as our set designer for the 2014–15 season. Since arriving in 1987, Mr. van Aalsburg has worked with nearly every theatre company in the Bay Area in one capacity or another. As scenic designer, Mr. van Aalsburg recently designed and built Life x 3 and The Weir for Off Broadway West and will be designing their production of The Train Driver later this fall. He will also be designing the set for 42nd Street Moon's production of Something for the Boys. As a clever engineer, Mr. van Aalsburg created a novel design for interconnected rehearsal blocks and engineered the scenic design for Shrek at Moreau Catholic High School. Bert van Aalsburg is also a recipient of a Critics Circle award for set design and has been nominated twice over for his work. Mr. van Aalsburg splits his time between work as a designer with work as a stage manager. Bert van Aalsburg has been production stage manager for the Lorraine Hansberry Theatre since 1999. And, during the summer, Mr. van Aalsburg was stage manager for an event honoring the 50th anniversary of the Civil Rights Movement (co-produced by the Hansberry and the Equal Justice Society of Oakland) and for the staged reading of Michael Sullivan's adaptation of A Christmas Carol during SF LaborFest 2014. Mr. van Aalsburg is proud to be an active member of Actors' Equity Association, the union for actors and stage managers.
Robert Michael Moreno
Musical Arrangement
Robert Michael Moreno is a pianist, singer, composer, and musical director. Mr. Michael has musical directed Coraline The Musical and The Fantasticks at SF Playhouse; Guys and Dolls at Berkeley Playhouse; and Spring Awakening at Saint Mary's College. Mr. Michael is half of the songwriting team Michael and Simon who wrote Torch: A New Musical; and their forthcoming collection of music, Undiscovered: The Songs of Michael and Simon.
Taylor Peckham
Musical Track
Regional: The Last Goodbye, Pygmalion, Nobody Loves You (Old Globe) Young Frankenstein (Moonlight Stage Productions) Respect: A Musical Celebration of Women (Herberger Theatre, Phoenix AZ) Yoshimi Battles the Pink Robots (La Jolla Playhouse) A Midsummer Night's Dream: The Musical [Craig Noel Award Nominee](Intrepid Shakespeare Company), The Music Man, An American Christmas, miXtape, Guys and Dolls, Joe Vs. The Volcano: The Musical! (Lamb's Players Theatre), Little Shop of Horrors (Cygnet Theatre Co.), Xanadu! (New Conservatory Theatre of San Francisco), 13: A New Musical (Fine Arts Network), Seven Brides for Seven Brothers (Temecula Valley Players). In addition to being an award winning musical director, Taylor is also an accomplished arranger, orchestrator, and composer; having written and/or arranged pieces for various universities, theatre groups, orchestras and choral ensembles around the country. Thanks to his family, friends and to God for his many blessings.
Tommy Shepherd
Musical Composer, Xtigone
Tommy Shepherd (composer) A.K.A Soulati is a b-boy, rapper, drummer, and beatboxer. Tommy is co-founder of the live hip hop band, Felonious: onelovehiphop, and is 1 of 3 M.C.'s in the live Funk-Hip Hop band Raw Deluxe, bommbin' the Bay and world. One of his most recent conquest was re-writing an incomplete script formerly written by Duke Ellington called Queenie Pie, performed at the Oakland Opera in May 2008. Tommy created and performed his first one act solo performance piece The MF in ME, premiering at Intersection in 2008. Shepherd performs internationally with Marc Bamuthi Joseph in Scourge, and is a Musician/Beatboxer for the break/s, which premiered at Yerba Buena in 2008, and ran at the Kennedy Center(D.C.), Yale Rep(New Haven), The Public in N.Y. With Dan Wolf, he performed in and created the live musical soundscape for Angry Black White Boy, and collaborated with Wolf on Stateless, which toured Eupore on 2009/10. Tommy was a long time Hybrid Resident Artist at Intersection with Erika Chong Shuch and Dan Wolf. He is also a member of resident theatre company Campo Santo and Erika Chong Shuch's ESP Project. In 2004 Tommy was an actor, musical director and live vocal musician for the play A Fist of Roses by Philip Kan Gotanda created with Campo Santo + Intersection. In 2006, he played the role of "l" and Music Director for Blood in the Brain, a re-imagining of Shakespeare's Hamlet.
Jamal Parson
Sound Designer, Xtigone
At the age of eleven, Jamal Parson found a love for music. Starting with dj'ing and producing; then eventually learning sound engineering, Jamal Parson has produced for several recording artist and worked in radio at KPOO FM and KBLX FM.
Maureen "Mo" Stone
Costume Designer
A recent bay area transplant, Mo Stone is excited to be finding her way in the world of San Francisco theater with the African-American Shakespeare Company. For Ms. Stone costumes are a true passion, but she has also worked as a sound designer, makeup artist, and board operator for countless productions in her native Los Angeles, including collaborations with the Aluminous Collective, Golden Thread Productions, NeedTheater, the 68 Cent Crew Company, and Graveyard Shift Productions. Maureen Stone is a graduate of UCLA's School of Theater, Film and Television, and currently is a fellow at the Brava Theater Center. Maureen Stone would like to thank the AASC for this crazy opportunity, Michelle for the hookup, and Zac for his love and support.
Katherine Nowacki
Costume Designer, Xtigone
Ms. Nowacki is a Bay Area based costume designer. Her most recent work was assistant costume designing alongside designer Dede Ayite for Stagger Lee, a world premiere musical at Dallas Theater Center. Her work on the Californian stage includes the upcoming Pandora's Gift for Volti premiering at Z Space in May 2015 as well as two seasons at Cal Shakes for A Raisin in the Sun and A Winter's Tale. Her work with organizations such as Dallas' Big Thought and Cal Shakes are a huge part of her love of bringing theater and art to underserved parts of the community and bringing the arts to new audiences. She holds an MFA in Stage Design from Southern Methodist University in Dallas and a BFA in Costume Design from Southern Oregon University.
Tom Segal
Choreographer, Cinderella
Tom Segal is very pleased to be returning to AASC after choreographing Much Ado About Nothing this past season. Mr. Segal was just nominated for a Theatre Bay Area award for his choreography in Ruddigore with Role Players of Danville and will be choreographing Grand Duke and HMS Pinafore for Lamplighters this season. Mr. Segal has performed, choreographed and directed locally, nationally and abroad, having done over 150 shows with various Bay Area companies. Tom Segal previously directed and staged Peddling Rainbows for 42nd Street Moon and has choreographed 14 other Moon productions; and co-directed the 75th birthday tribute to Stephen Sondheim show, Simply Sondheim. Other Bay Area directing and choreography theatre credits include: SF Opera, Ensemble Paralelle Opera, Word for Word Company, Lamplighter's, Marin Theatre Youth Company, Berkeley Playhouse, The Rat Pack show SF, DanceTime show national tours, Theatre Artaud, Theatre Rhinoceros, Opera Frontier, Pacific Alliance Stage Co, Santa Rosa Actor's Theatre, Bracebridge Christmas show, San Francisco University, San Jose State Theatre, and many others. Mr. Segal is the recipient of numerous awards and was co-choreographer for SF Playhouse's production, Abraham Lincoln's Big Gay Dance Party, which was named "Best Play" at the 2009 NYC Fringe Festival. Other awards include 2 Dean Goodman Choice Awards, Bay Area Theatre Critics Circle Award for Best Choreography, finalist in International Dance Competition of the Americas, "Outstanding Choreographer" – National Association of Ballet and 3 Arty Awards. Tom Segal currently teaches drama at Sacred Heart School in Atherton.
Bridgette Loriaux
Choreographer, The Tempest
Bridgette Loriaux's choreographic career began in 1999, when she was an actor/company member of the Oregon Shakespeare Festival. On her off-season Ms. Loriaux was simultaneously dancing under the direction of David HoChoy: Rehearsal Director of the Martha Graham Dance Company and Artistic Director of Dance Kaleidoscope, Indianapolis. Performing in the NYC Off-Broadway Show and International Touring Cast of De La Guarda allowed Ms. Loriaux the opportunity to co-choreograph 'Now and Then' with Tai Dang of Newsweek Magazine NYC; and create 'Beloved' a one-woman Shakespeare movement piece for the Nova Danca Dance Festival in Sao Paulo, Brazil. After returning from her aerial performances in Beijing where she represented Volkswagen for the 2008 Summer Olympic and Paralympic Games. Her credits include: 'Le Petit Mort' for DARB1718 the New Egyptian Cultural Center in Cairo, Egypt, the Premier of Tanya Shaffer's The Fourth Messenger directed by Matt August; HONK! Shakespeare Santa Cruz Holiday Show directed by Nancy Carlin; Spring Break The Musical directed by Jessica Heidt; Movement Consultant for Of the Earth by Shotgun Players directed by Jon Tracy; Charlotte's Web directed by Nathan Cummings at Peninsula Youth Theatre, Mountain View; Dick Wittington directed by Jane Karen at The New Wolsey Theatre in Ipswich, England; and Head of Show Production for UneeQ Entertainment, Dubai, U.A.E. Bridgette Loriaux has held Contemporary Master Classes in London, Buenos Aires, Sao Paulo, and Tokyo; and for the past few years has had the privilege of working with the talented young adults of Westmont High School and Independence High School in the South Bay Area. Acting Credits Include: Oregon Shakespeare Festival 1997–2000; Peter and the Wolf at the Hackney Empire, London; Tamam in the World Premiere of The Black Eyed at The Magic Theatre; Ariel in The Tempest at Mill Mountain Theatre; Scapino in Pagliacci at Opera San Jose; and The Boy in Henry V at the California Shakespeare Theatre.
Dennis Chowenhill, Ed.D.
Dramaturgy, The Tempest
As a college instructor of English composition and literature for more than thirty years, Dennis Chowenhill has taught all eras of dramatic literature, from the Greek classics to modern drama. After retiring from full-time teaching, Mr. Chowenhill began work as dramaturg for college and professional productions. For Chabot College, Mr. Chowenhill was dramaturg for Grapes of Wrath, Othello, and Particulate Matter. Mr. Chowenhill is currently Resident Dramaturg and Director of the New Play Reading Series for the Virago Theatre Company, where he has assisted in productions of Sonia Flew, AROUSAL, The Lovers, Il Trovatore (opera), and Vampire Lesbians of Sodom and Sleeping Beauty or Coma. Mr. Chowenhill also worked as dramaturg in the production of Top Girls for Custom Made Theatre (S.F.). Since retiring from full-time teaching, Dennis Chowenhill devotes much of his time to Shakespeare scholarship and literary translation. Mr. Chowenhill studied Dramaturgy and Script Analysis at the Berkeley Repertory School of Theatre.
Jason Conti
Administrator
Bria Temple
Arts Education Committee, Co-chair
Maya Alvarez
Social Media Intern
Vicky Chen
Website Manager

762 Fulton Street, Suite 306
San Francisco, CA 94102
(415) 762-2071